T

hough A R Rahman and Sukhvinder Singh have produced over a dozen melodious songs in such films as Taal and The Legend of Bhagat Singh, they have not been able to match the vibrant magic of their Chaiyya Chaiyya song in the flop film Dil Se.
They always look forward to working together, never mind how much pressure each is facing. "With Sukhvinder, I can compose a tune in less than an hour and record it even quicker," says Rahman, with a hearty chuckle. "We have a very good understanding, a rare kind of understanding."
The exuberant Chaiyya Chaiyya was the highlight of the Andrew Lloyd Webber-produced musical Bombay Dreams that ran for over a year and a half in London and for 8 months on Broadway, New York, a few years ago.
Last year, director Spike Lee used the original and remix version of the phenomenal hit at the opening and closing credits of his The Inside Man. About 30 million people saw the film worldwide.
The song has to be part of Rahman's stage repertoire. "I cannot think of a live show of mine without it," Rahman says. "Even if I don't include it in the show, I am sure the audiences will make sure that we include it."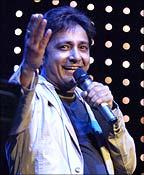 Sukhvinder has not only sung for Rahman but also composed a few songs, especially for Deepa Mehta's Oscar-nominated Water. Mehta says she is looking forward working with Rahman after 3 films, in her next venture, the big-budgeted Exclusion featuring Amitabh Bachchan and John Abraham.
"I am convinced he is the most consummate composer that I know of in the world," she says. "And though some people may think of his work as ephemeral, many of his compositions are going to be around for a very long time. His music comes from the characters and is an extension of them. I think he is the best .He is the most brilliant film composer in India today and is in such demand that he has altered his normal working day to begin at six in the evening and go through the night, so that he can compose undisturbed by producers' calls. He finds the character's sur, raag, rhythm... Reggae, folk, classical, he's got it on his finger tips. He's so cinema-literate. He can discuss Ingmar Bergman's Autumn Sonata and Subhash Ghai's Taal, all in one breath."
Though Rahman works mostly at night, he does make concessions. "When I recorded the song with Bappi Lahiri for Guru, we got it done during the day," he says. "Bappi flew in from Kolkata in the morning, and a few hours later, he was ready to fly back home."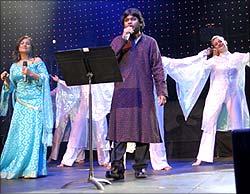 Singer Lata Mangeshkar worked with Rahman for the first time in Mani Ratnam's Dil Se and later in Pukar, Zubeidaa and Lagaan.
'Rahman is known to record only during the night time,' she said in an interview 2 years ago. 'But he records with me during the daytime... when my voice is fresh. I don't like recording at night. He made an exception for me. When an artiste shows such consideration for another artiste, it feels good. Aur kaam bhi achha hota hai [Even the work done is good]. Rahman doesn't take long over his recordings. Jiya jale in Dil Se was recorded in 40 minutes."
Versatile drummer Sivamani who performed for Rahman at the June 16 concert in New York has known the 41-year-old singer and composer for about three decades.
'Our association began when we both were really young,' he recalled in an interview not long ago. 'We had this band called Roots. We just make very good music together. He is a master of lai [melody] and taal [beat]. The recognition that I enjoy today is because of Rahman. There are so many talented people behind a film music score. I played for Illayaraja for very long, but my name never figured on the screen or the cassette cover. Rahman changed it all. He gives credit to every single member of his team for whatever part they play, big or small. That makes him really special. People came to know about me only because of him. I thank him for that."
Sadhana Sargam, one of the singers Rahman respects most and who has sung haunting tunes for him in Water and Earth, has said: 'When Rahman calls, you go without asking questions because you know it's going to be worth it. He's a reserved person and talks very little but he makes you give your best. He keeps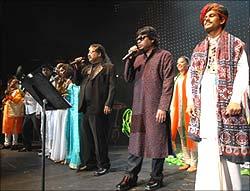 a cassette ready, wherein he has sung the song himself and listening to it makes your work so much easier, he allows any number of retakes. If you've sung half a line beautifully and haven't sustained that in the other half, he'll retain that half and make you work on the other half. The result is magnificent. And Rahman makes his pleasure very evident when he likes something you've done... then he won't even be shy.'
Chitra, who accompanies Rahman in the current concert tour along with Hariharan, Sadhana Sargam, and Sukhvinder Singh, among other singers, says that when Rahman plays a composition to her, she listens very carefully.
"I have known since I sang my first song for him in Roja, over a decade ago, there are layers and layers to his tune. Even a tune that may sound very catchy at the beginning has its own complex nature. And that makes working with him even more challenging. And what I love in him most is that he is very modern, but he also deeply respects tradition."